good morning!
GOOD MORNING!
And it is, just about.
I'm foiled today, lacking inspiration, lacking words, lacking pretty much everything.
Got to take a shower, tidy the house - boring stuff that no-one wants to hear about.
I did a brave thing.
I asked my mum to pick up a hair dye for me while she was out shopping. So later I'm going to dye my hair. Well, that solely depends on what colour she picks up for me - I gave her guidelines. It was still a brave move, even with the guidelines.
You see, my hair is this colour...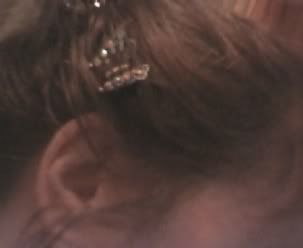 And I want it to be this colour again...
I don't much fancy my chances. And yes, that second colour was natural.
Maybe I'll post the results later.
Let's hope they aren't too disastrous.
::UPDATE::
Mum just called from the supermarket. She's gone with golden mid blonde. Watch this space....
::UPDATE NO 2::
The dye is here. It's not golden mid blonde. It's natural medium blonde. As displayed below.
This could be very interesting.
Anyone want to come and hold my hand while I destroy my natural and beautiful hair? I'm getting second thoughts now...
Oh what the f.....